於14-9-2010 至 26-10-2010,消防商會(FSICA) 與5個學會(HKIE-BS Division; HKIE- Fire Division; IFE-HK Branch; CIBSE-HK Branch;  BOSOMES) 及香港理工大學(Dept of BSE)聯合舉辦了12堂 (共36小時)的消防系統CPD 課程,所有講者都是富有經驗的消防從業員或顧問,及講座之課題實用,故此聯辦講座得到各界人仕歡迎及勇躍支持,共540人次報名參加,常出現會堂爆滿情況。

此次聯辦講座能順利及成功地舉行,除有賴各方支持外,也建基於各參與機構的負責成員積極和有效的統籌,統籌小組主席為Ir K.F. Yee (HKIE- BS Division),其實各成員已由本年4月起,多次抽出私人午膳時間作籌劃會議,,並且也得到消防商會之何小姐的得力幫助,務求該聯辦講座辦得盡善盡美。在此,再一次向各參與機構及講者致意,及多謝各界友好出席支持。
Comprehensive Certificate Course on Fire Services System 2010 was successful hold from 14 Sep to 26 Oct joinly organized by HKIE-BSD, HKIE-FE, IFE-HKB, CIBSE-HKB, BOSMES, PolyU and FSICA.
Photo Album
---
~~~~ previous notice ~~~~ 
Please be informed that Comprehensive Certificate Course on Fire Services Systems 2010 jointly organised by HKIE-BS Division, BSOMES, CIBSE – HK Branch, HKIE-FE Division, FSICA, IFE – HK Branch and PolyU – Dept of BSE will be held from 14 September 2010 to 26 October 2010 from 7:00pm to 9:30pm.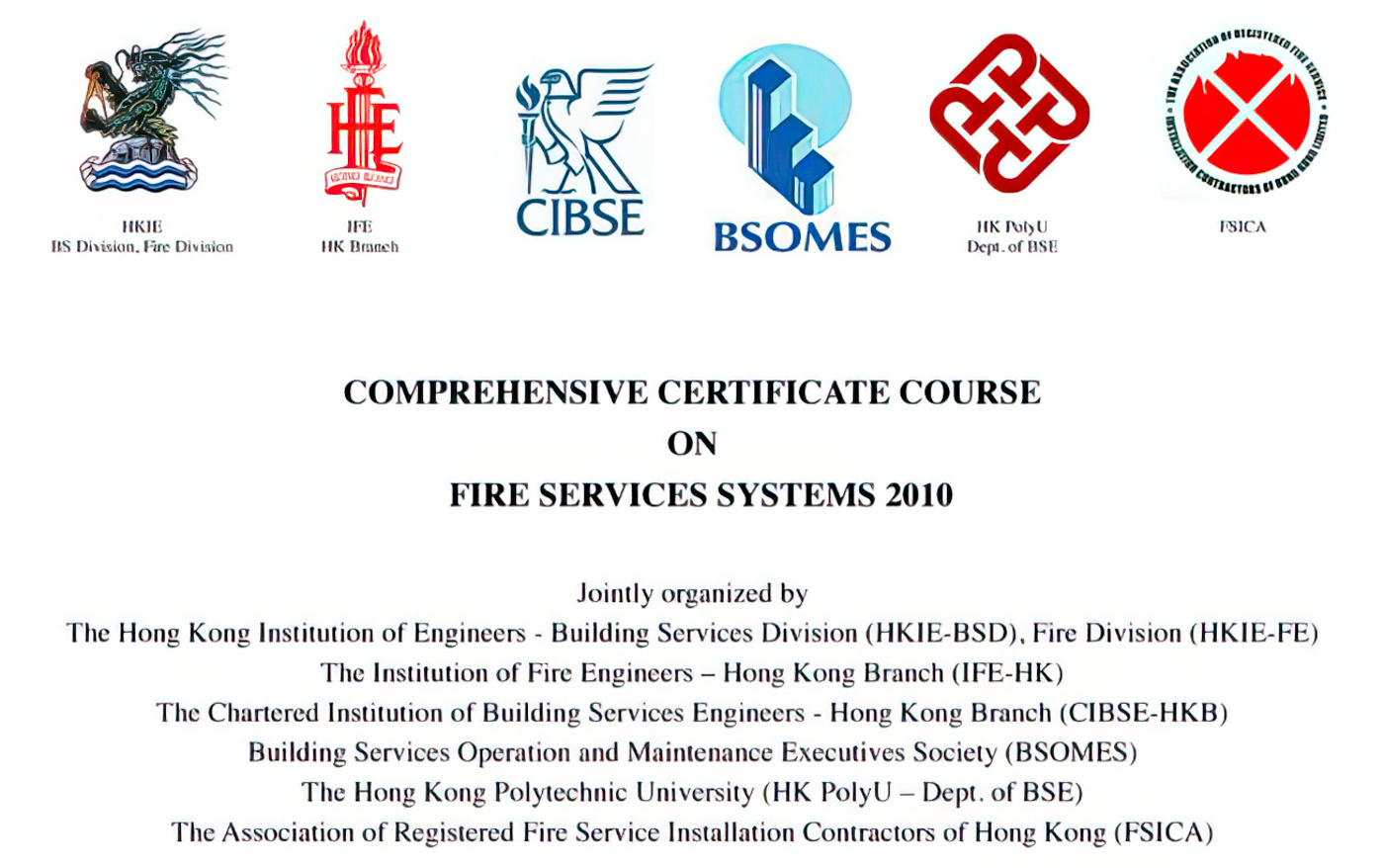 This course is designed to broaden knowledge of engineers in Fire Services System and will be useful for engineers who want to refresh / acquire their skills in different perspectives. Flyer & Enrollment From were attached for your information. Prior registration is required. Applications will be accepted on a first-come first-served basis. For details, registration fee, registration form and payment method, please click here.
Interested parties, please complete the enrollment form and fax to 3747 3367 or email to info@fsica.org.hk for reservation, then mail it together with the crossed cheque to FSICA office, Room 1801, 18/F., Tung Wai Commercial Bldg., 109-111 Gloucester Road, Wanchai, Hong Kong for registration. All cheques should be crossed and made payable to "The Association of Registered Fire Service Installation Contractors of Hong Kong Ltd."
Should you have any query, please feel free to contact me at 2390 6368.
Thank you for your kind attention.

Category :
訓練 • 課程 • 研討