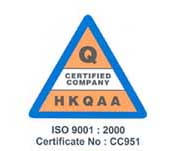 Guardian Fire Engineers & Consultants, Ltd.
衛 保 消 防 工 程 顧 問 有 限 公 司
We, Guardian Fire Engineers & Consultants, Ltd., one of the most experienced Fire Engineering Company in Hong Kong.
Our Company was established in 1972. We are one of the few Engineering Company that has obtained the ISO 9001:2000 Certification (Quality Assurance System) in system design, supply, installation and maintenance of fire services and water pump systems, supply and installation of heating, ventilation and air-conditioning, plumbing and drainage and *low voltage electrical systems "*as defined in Electricity Ordinance Chapter 406"
Our specialty includes design, supply, install, maintenance, modification and improvise Automatic Fire Alarm System, Sprinkler System, Fire Hydrant/Hose Reel System, Drencher System, Water Spray System, Foam System, Non-contaminating Gas Extinguishing System and all types of fire prevention products.
Our scope of services also includes supply, install, maintenance, modification of Plumbing and Drainage System, Electrical Supply and Distribution System, Air Conditioning and Air Distribution System and products.
We have full set of electrical and mechanical license approved by the Government of HKSAR as follows:
Fire Service Class I, II and III Contractor
Building Department Licensed Ventilation Contractor
Water Authority Licensed Plumber (Grade 1)
Electrical and Mechanical Department Registered Electrical Grade C0 (Low voltage electrical work, any capacity)
Works Bureau Group I and Group II (major H.K. Government contract) Approved Suppliers of Materials and Specialist Contractors for Public Works
Housing Authority listed fire services and water pump contractor
Housing Society listed fire services contractor
Our company and key staffs are members of NFPA, ARFSIC, IFE, HKIE, CIBSE, IEE.
Corporate Information
Guardian Fire Engineers & Consultants, Ltd.




衛 保 消 防 工 程 顧 問 有 限 公 司

Enquiry and Contact
Address
Unit 2, 13/F, Tak King Industrial Building,
27, Lee Chung Street,
Chai Wan, Hong Kong.
Tel
(852) 2889 7022
Fax
(852) 2889 7966
Website
E-mail
em@gfehk.com