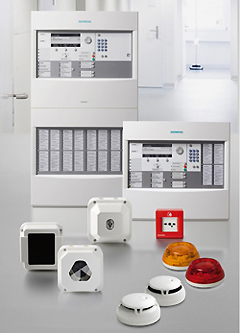 Siemens Limited
Building Technologies Division
The Siemens Building Technologies Division, as a service provider and system integrator and also as a manufacturer of the corresponding products, combines solutions and concepts for energy-efficient building automation, fire protection, electronic safety and electrical installation engineering.
With over 150 years' experience of fire and fire related phenomena, Siemens can provide the adequate products and systems for your safety. As a globally active system builder with a large, innovative product range, we are your complete supplier for all safety requirements.
Continuous innovation provides the basis for increasingly perfect protection for people, buildings, equipment, machines and data. For decades we have been the driving force behind further developments in the area of fire detection technology, from basic research to practical solutions. We maintain our own research facilities in Europe, America and Asia Pacific. Moreover, we have been operating in-house quality assurance systems with great success long before the introduction of internal quality standardization. We are the first supplier in the European security market to satisfy the demanding certification requirements for both production and service level.
Siemens' Building Technologies Division is the world's leading products, systems and service provider in the market of fire engineering and building management. Many of the leading companies in Hong Kong SAR are enjoying Siemens' expertise services. They are
Hong Kong Disneyland
Hongkong Land, Harbour City Management Ltd.
The University of Hong Kong, The Chinese University of Hong Kong, City University of Hong Kong
The Peninsula. Mandarin Oriental Group, Sheraton Hotels and Resorts
Queen Mary Hospital, Prince of Wales Hospital, etc.
To have an even more ambitious objective, IBT wants to be perceived by our customers as the best provider and is ideally equipped for this task with:
Fire Protection on the highest level has a name: Sinteso. The newly launched Sinteso® Fire Detection System in Hong Kong pushes the technological standard in fire protection onto a higher level. Earliest possible and most reliable fire detection comprising ASAtechnologyTM fire detectors, clear control panels and a wide range of peripheral devices.
We invite you to visit our website for more details on our company, products and at the same time to enjoy our services for a sound, professional and cooperative relationship with you.
Corporate Information
Siemens Limited
Building Technologies Division

Address
Unit 1006-10, 10/F, China Resources Building
26 Harbour Road, Wanchai, Hong Kong
Enquiry and Contact
Y B Luk
Tel
(852) 2612 3653
(852) 2870 7888
Fax
(852) 2407 4457
Website
http://www.siemens.com.hk
E-mail
yb.luk@siemens.com