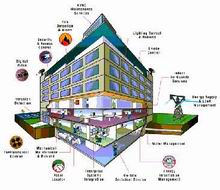 As one of the world's largest fire companies, Honeywell Building Solutions (HBS) offers unrivalled expertise. With over 40 years experience in the fire business, Honeywell customers around the world get the backing of a $36 billion global technology leader with service support from one of the largest customer service organisations known to the industry.
Our project management skills also set standards others try to emulate. Through project design and delivery to technically advanced service capabilities, we aim to reduce your financial and operational risk at all stages. We will help you to reach the right solution for both your current and future needs and reap a higher return on investment.Honeywell Limited, established in Hong Kong in 1963, installs, maintains and upgrades the systems that help keep customer workplaces safe, secure and comfortable while increasing cost-efficiencies Critical building systems support by Honeywell includes:
Building automation
Security
Life safety
Energy management
Systems integration
Honeywell International www.honeywell.com is a Fortune 100 diversified technology and manufacturing leader, serving customers worldwide with aerospace products and services; control technologies for buildings, homes and industry; automotive products; turbochargers; and specialty materials. Based in Morris Township, N.J., Honeywell's shares are traded on the New York, London, and Chicago Stock Exchanges. For more news and information on Honeywell, please visit www.honeywellnow.com.
Corporate Information
Honeywell

Enquiry and Contact
Mr. Allan Cheung
General Manager
Address
25/F, Honeywell Tower,
Olympia Plaza,
255 King's Road,
North Point, HK
Tel
(852) 2331 9133
Fax
(852) 2331 9998
Website
http://www.honeywell.com/buildingsolutions